Wayne State University police officer in 'grave' condition, on life support after shooting


By WXYZ.com | Updated November 23, 2016, 1:06PM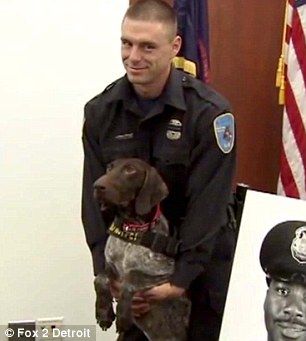 Ofc. Collin Rose, K-9 "Wolverine" (inset: Ofc. Patrick Hill)
DETROIT (WXYZ) - Police say they have a suspect in custody in connection to the shooting of a Wayne State University police officer.
Police say the suspect, 31-year-old Deangelo Davis, had a history of confrontation with officers.
Police say 29-year-old Collin Rose is currently on life support at Detroit Receiving Hospital after he was shot in the head after stopping someone on a bicycle near Lincoln and Brainard around 6:30 p.m. Tuesday.
Rose is a canine officer who named his partner "Wolverine" in memory of fallen DPD Officer Patrick Hill. "Wolverine" was Hill's code name. He died in October 2013 after being shot in the line of duty by a murder suspect in April of that year.
Rose has been with the Wayne State University Police Department for five years.
"This is a tragedy of immense proportions," said Dr. M. Roy Wilson, president of Wayne State University.
Officials say a Wayne State University police officer has not been shot in 36 years.
[...]
According to officials, it's is not clear exactly why Rose made the stop.
Chief James Craig says Wayne State University police made several arrests in the area where the shooting occurred last night. Those arrests were related to a recent rash of car break-ins, where items were stolen.
Police say Rose was investigating those break-ins, but it's not clear why he stopped the bicyclist.
More at link:
http://www.wxyz.com/news/region/detroit ... ficer-shot