This is what surprised me!
Pope shuns limo, rides in tiny Fiat



The Kansas City Star| By Vera Bergengruen | September 22, 2015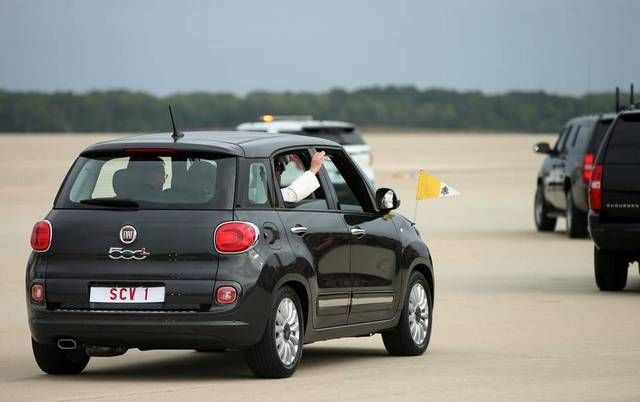 Pope Francis waves from a Fiat 500 as his motorcade departs from Andrews Air Force Base, Md.
Tuesday, Sept. 22, 2015. Andrew Harnik AP
WASHINGTON - The pope's ride was not what people were expecting.
As the pontiff's plane touched down at Joint Base Andrews, he was greeted by a red carpet, cheering fans, a band and a welcoming committee including President Barack Obama and the First Family.
So it seemed a little anti-climactic when the famously humble leader of the world's 1.2 billion Roman Catholics climbed not into a limousine but into a modest dark grey Fiat 500L for his drive to the Vatican Embassy in Washington. The small car was dwarfed by the bulky SUVs of the president's motorcade.
As the pontiff rode off in his humble ride, waving at the crowd through the open window, Twitter exploded with praise for the 'people's pope,' calling the choice of car everything from "adorable" to "sending an environmental message."
[...]
In stark contrast, when Saudi Arabia's King Salman landed at Andrews earlier this month he came with four airplanes, was greeted by dozens of cars and rented every single room at the Four Seasons in Washington.
More at link: http://www.kansascity.com/news/nation-world/national/article36226770.html