Protests erupt after fatal officer-involved shooting in NE Charlotte
Wednesday, September 21st 2016
By WBTV Web Staff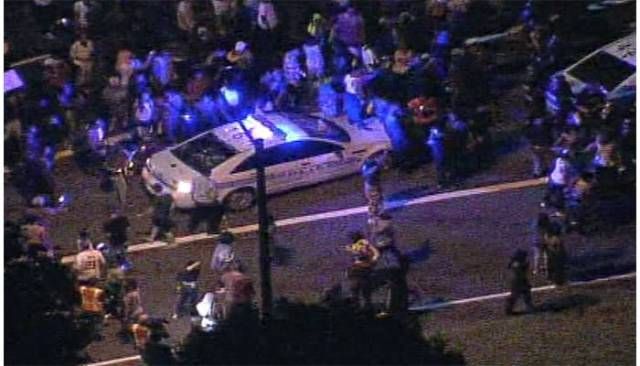 CHARLOTTE, NC (WBTV) -
A man was pronounced dead after an officer-involved shooting in northeast Charlotte Tuesday afternoon, according to police. Hours later a large crowd had gathered near the scene in protest, sparking clashes with police and tear gas being deployed.
There were reports that at least 15 officers suffered injuries during the protests. All are expected to be OK.
The shooting happened around 4 p.m. at The Village at College Downs apartment complex on the 9600 block of Old Concord Road. Officers said they were searching for a person with an outstanding warrant when they saw a man get out of a vehicle with a firearm.
When the man, later identified as 43-year-old Keith Lamont Scott, got back into the vehicle, the officers approached. The report states Scott then got back out of the vehicle "armed with a firearm and posed an imminent deadly threat to the officers who subsequently fired their weapon striking the subject."
The officers said they immediately requested MEDIC and began performing CPR. Scott was then taken to Carolinas Medical Center where he was pronounced deceased a short time later.
Police said a firearm "the subject was holding at the time of the shooting" was recovered at the scene, and that detectives were interviewing witnesses to the incident.
"I don't believe [the man shot] was the one with the warrants, but we don't know if there was a connection," CMPD Chief Kerr Putney told reporters. "At this point all we know they're in the apartment complex parking lot and this subject gets out with a weapon, they engage him and one of the officers felt a lethal threat and fired his weapon because of that."
The officer who fired the shot was identified as Officer Brentley Vinson. He has been with the department since July 2014.
A woman claiming to be Scott's daughter live streamed the scene on Facebook for more than an hour after the shooting.
In the video, she said her father was unarmed when he was shot.
She said Scott was sitting in his vehicle reading a book and waiting for the school bus to drop off his son. In the video, she is heard saying police came up to him, yelled for him to get his hands up and broke open the car window.
She claims he was Tasered and then shot four times. In the video, she said her father was disabled, didn't have a gun and was even scared of them.
The video showed tense interaction between the neighborhood and police as the police pushed the crowd back further as they widened their perimeter.
A woman who identified herself as Scott's sister was also at the scene. She also said her brother did not have a gun.
....more at link
http://www.wbtv.com/story/33141522/prot ... -charlotte