Holy moly, look at that gun! Someone in the family, forgot who, said "he wasn't allowed to have a gun".

As sad as this is, I hope it scared some sense into the other kids with him.
Police: Teen carjacking suspect still critical, but stable


By Christine Boynton | FoxBaltimore.com | December 22, 2016
BALTIMORE (WBFF) -- Baltimore Police on Thursday afternoon held a briefing regarding the Wednesday night shooting of a teen carjacking suspect.
According to investigators, the 13-year-old was shot by a 73-year-old private investigator and former Baltimore police officer who was sitting in his car, after the teen approached with a group of juveniles, opened the car door and brandished what appeared to be a handgun.
Officials say the teen was shot in the head and transported to Shock Trauma in critical condition. The incident took place around 3:45 p.m. in Carroll Park.
The 73-year-old man, who has not been identified, called police and remained on the scene after the shooting. He had a valid concealed weapon permit, investigators noted.
Police released a photo of the teen's handgun Wednesday night, which was found to be a realistic replica firearm.
[...]
Smith said the teen carjacking suspect was listed in critical but stable condition on Thursday.
"This is a 13-year-old, we've all been 13 and we've done some silly things," Smith said. "Maybe many of us have never done anything like this but when referring to this 13-year-old we need to be mindful of the fact that he committed a silly act and the consequences were substantial. There's absolutely no need for name calling, sad I have to stand up here and say that."
More at link:
http://foxbaltimore.com/news/local/poli ... ng-suspect
------------------------------------
This article mentions a councilwoman who was assaulted by a 13 and 15 year old so I looked her up. I don't know any of the details but it happened the first week in December. Right now Baltimore Police are looking for two home burglars who shot the homeowner in the head (woman). Just too much bad news to cover.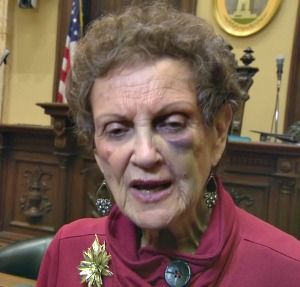 Councilwoman Rikki Spector, 80