Protester featured in iconic Ferguson photo found dead of self-inflicted gunshot wound


By Kim Bell | St. Louis Post-Dispatch | May 5, 2017, 11:55AM CT
UPDATED at 3:30 p.m. with information from Edward Crawford's lawyer.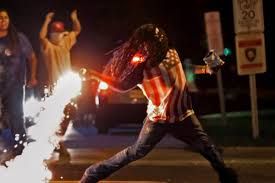 ST. LOUIS • Edward Crawford, the man featured in a Ferguson protest photograph throwing a tear gas canister back toward police, was found dead late Thursday night, his father said. Police say it appears the death was from a self-inflicted gunshot wound.
Crawford's father, Edward Sr., confirmed his son's death to the Post-Dispatch. He said his son's mother called him and they went together to the morgue early Friday to identify their son's body. Crawford Sr. was in tears Friday as he spoke with a reporter.
The medical examiner's office says the death of Edward S. Crawford Jr. was reported as a suicide at 11:46 p.m. Thursday. However, the official cause of death is pending the results of an autopsy. The shooting was in the 1400 block of Salisbury Street, in the city's Hyde Park neighborhood.
According to a police summary, Crawford was in the back seat of a car. Two women were in the car with him. The car was heading east on Salisbury, approaching Blair Avenue near Hyde Park, when the gun went off.
The women told police that Crawford had started talking about how distraught he was over "personal matters." They heard him rummaging for something in the backseat, and the next thing they knew he shot himself in the head.
Crawford's father, 52, said he believes it was an accidental shooting, not intentional. "I don't believe it was a suicide," he said. He said investigators weren't saying much to him yet. "They're being hush-hush," the father said.
The case is being handled by district detectives, not homicide investigators.
More at link:
http://www.stltoday.com/news/local/crim ... 32566.html