Global Warming Predictions: FAIL
US Temps versus NASA 1988 Global Warming Predictions: 25 Years Later, NOAA Documents Embarrassing Failure
January 19, 2014 at 08:38 AM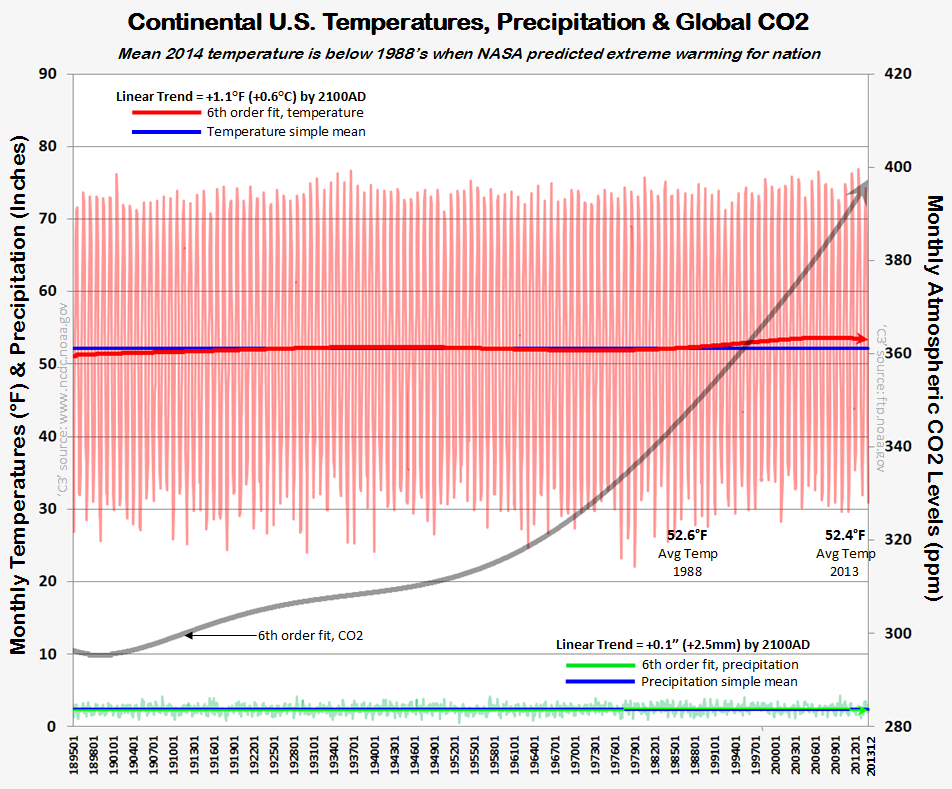 Back in 1988 (that would be 25 years ago)
NASA scientists predicted that global temperatures would increase by 2 to 5 degrees Fahrenheit, within 30 years, if human CO2 fossil fuel use continued to increase by 1.5% per year.
Well....how's that expert NASA climate prediction working out for Americans?
L.O.L., big time.
During 1988 the average U.S. temperature was 52.6°F. And for 2013, 25 years later? The mean 2013 U.S. temp was 52.4°F.
Yep, you read that correctly. The 2013 temperature was below the 1988 temperature. Now, it's not quite 30 years yet, but it's obvious at the 25 year mark that the "experts" are spectacularly clueless when it comes to predicting climate and temperatures.
And what about that scary 'business-as-usual' global fossil fuel growth of 1.5% per year that the leading NASA climate scientist warned would cause temperatures to skyrocket? Ooops, annual global fossil fuel growth averaged 2.3%
Indeed, the chart at the top indicates that the growth of atmospheric CO2 levels has been phenomenal since around 1950. And as the bright red trend curve depicts, U.S. temperatures have been increasing since 1895 - more so since the early 1980s to the late 1990s when U.S. temperature increases flattened, and then literally started to cool per NOAA's NCDC climate division.
....more at link
http://www.c3headlines.com/2014/01/us-t ... facts.html
More global warming articles at MAIN page
http://www.c3headlines.com/