Would you like dung with that? Elephant-style coffee $50 a cup
December 10, 2012
Lindsay Murdoch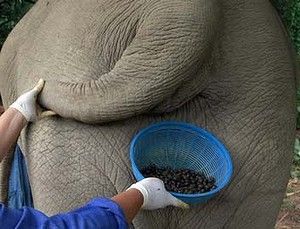 More than a crap-puccino BANGKOK:
Coffee connoisseurs are rushing to pay $50 a cup as the wives of mahouts in northern Thailand eagerly wait to pick through piles of fresh elephant dung.
In a world first, coffee made from pure arabica beans are being slow cooked in the stomachs of a herd of 30 elephants, plucked 30 hours later from their dung, then washed and roasted.
No, the result is not a crap-puccino, promoted as ''good to the last dropping''.
Those who have tried Black Ivory Coffee say it tastes of ''milk chocolate, nutty, earthy with hints of spice and red berries''.
Anantara Hotels, Resorts and Spas, a luxury hotel group, is selling the coffee at its hotels in northern Thailand, the Maldives and Abu Dhabi. Business is brisk despite the price tag of $US1100 ($1049) a kilogram.
Correspondents from Bangkok have made the journey to the Golden Triangle, where Thailand, Laos and Burma, meet to witness the jumbo baristas at work and to sip the product.
...more at link
http://www.smh.com.au/travel/travel-new ... 2b3m8.html