Woman discovers ex-boyfriend living in her attic 12 YEARS after they broke up
Ex-boyfriend had recently been released from prison

There were cups containing feces and urine all over the attic

He was spying on Tracy through an air vent in her ceiling

Is still on the loose
By Rachel Quigley
PUBLISHED: 16:23 GMT, 11 September 2012 | UPDATED: 20:41 GMT, 11 September 2012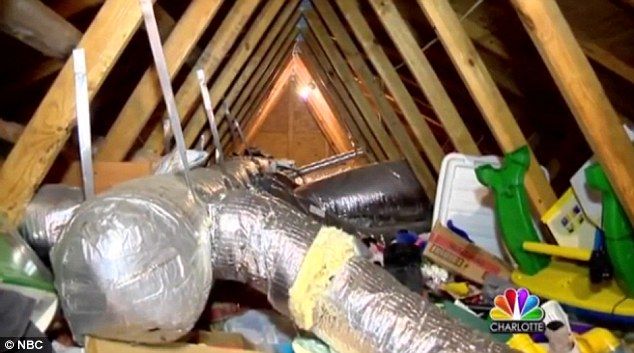 When Tracy, a single mother-of-five, heard banging in her attic, she thought the worst it could be was an animal or a ghost.
But when she sent her older sons and nephew up to check, they found a man she had broken up with 12 years ago sleeping in her heating unit at her home in Rock Hill, Charlotte.
The 44-year-old had just been released from prison two weeks ago.
...snip....
Talking about the night she discovered the man in her house, the nurse said she had a feeling 'something wasn't right'.
Then, she said she heard a thump coming from the ceiling and noticed things coming loose from the ceiling.
She said: 'Then all the nails just popped out of the ceiling over my bed. Like "bing, bing, bing". I thought there was some poltergeist stuff going on.'
That's when she sent the men in her home to check out the attic.
'They found a man. He had packed all the old coats and jackets into the heating unit and was sleeping in the heating unit,' she said, adding that the man ran downstairs and out of the house before police could get there.
Tracy later discovered that her husband had been sneaking into her house, though police are still unsure how he managed to do so.
Peep hole: An arrow, bottom left, points to the air vent the 44-year-old was using to spy on his ex-girlfriend with from the attic
Officers said they found a number of Sonic cups filed with feces and urine in the attic.
The only entrance to the attic is inside the home -- in the hall that connects her children's bedrooms.
By the time police arrived he had already escaped and is still roaming the neighborhood.
Tracy and her children are now afraid to sleep in their own rooms.
......more at link
http://www.dailymail.co.uk/news/article ... z26HdDmQW5
Read more:
http://www.dailymail.co.uk/news/article ... z26Hcxn64C
Read more:
http://www.dailymail.co.uk/news/article ... z26HcCPRFi