Cow rescued by fire crews after getting stuck in tree
29 August 2012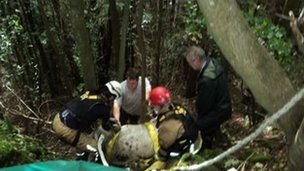 A cow had to be rescued by fire crews in Cumbria after falling 30m (100ft) down an embankment and getting stuck in a tree.
Farmer Phillip Armstrong discovered the shorthorn heifer down the steep drop of a quarry after noticing it was missing from the farm in Sheriff Park, Penrith.
The 300kg cow was saved from plunging to the bottom after getting stuck on a sapling, the fire service said.
The animal was sedated by a vet and winched to safety using slings.
The 11-month-old bovine was left "sore and bruised" but is now back on its feet after Tuesday's fall.
Mr Armstrong's mother Sandra said it was a "happy ending in the end after a very stressful afternoon".
...more at link
http://www.bbc.co.uk/news/uk-england-cumbria-19408243