Salutes to naked Prince Harry
Last updated 09:56 29/08/2012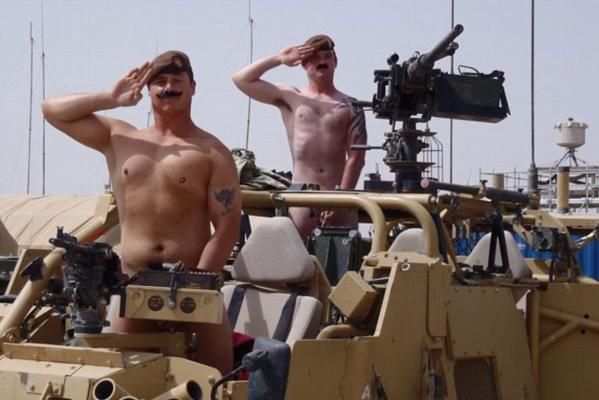 A Facebook page and website inviting serving or former members of the military, and anyone else who wants to, to "Support Prince Harry with a naked salute!" had nearly 17,000 members by early today.
"... please cover your crown jewels, tag yourself in your photo as proof of your support to the nation's favourite Royal!," the Facebook page said.
The third in line to the throne has had some explaining to do after naked pictures of him playing strip billiards in Las Vegas emerged on US showbiz site TMZ.
In one picture he was naked while bear hugging a nude blonde girl. In another he was standing in front of a naked girl, using his hands to cover himself.
Responding to the criticism of the prince, and to show support, "a few serving and ex-military lads" started posting naked salutes to each other, the Salute4Harry website said.
It had been thought about 75 people would join the group, but that had built to more than 16,000, with 10,000 pending, in fewer than 96 hours.
Suggestions that the amount of interest in the group should be used to raise funds for a good cause were being investigated, the website said.
Men and women of all shapes and sizes have taken the opportunity to post pictures of themselves, scantily-clad, on the Facebook page.
There are pregnant women, men with weapons covering up their privates, and some shots that are a bit raunchy.
"We salute you Sir!" Stephen Bushell posted.
"If you can fight for us, you can wear your birthday suit anywhere you please."
Amid the outpouring of support, not everyone appears fully committed to the cause.
"Seen lots of my friends joining the group, but not posting pics - come on ladies, show your support," Gemma Derbyshire posted.
...more at link
http://www.stuff.co.nz/oddstuff/7569585 ... ince-Harry
...the original Prince Harry pics...more "salute" photos at link
http://www.stuff.co.nz/world/7569638/Pr ... de-salutes
...or at facebook page
http://www.facebook.com/groups/336283586466687/