Thai woman commits suicide by jumping into crocodile pit
By Agencies, 6:50PM BST 16 Sep 2014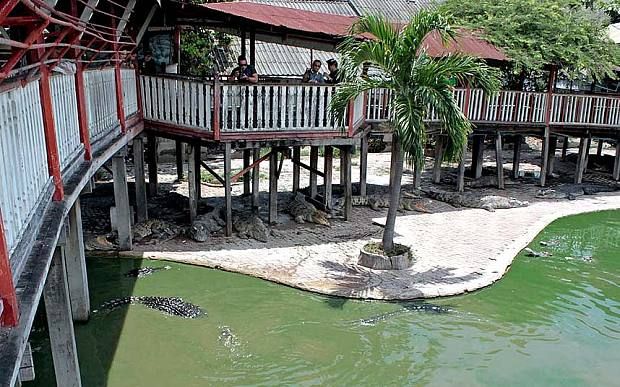 A 65-year-old Thai woman leapt into a pond of crocodiles at a farm popular with tourists near Bangkok, say police
A 65-year-old Thai woman has committed suicide by jumping into a pond of crocodiles at a reptile farm popular with tourists near the capital, according to police.
The incident occurred during opening hours at Samutprakarn Crocodile Farm, which doubles as a zoo and draws visitors who can feed the deadly reptiles from a walkway.
Police said they were told by family members that the woman, named locally as Wanpen Inyai, appeared depressed before her death.
Safety rules are often lax at Thai tourist attractions, which include tiger and crocodile farms.
The woman jumped on Friday from a resting point on the walkway into the middle of the pond, which contains hundreds of adult crocodiles, Preecha Iam-nui of Samut Prakan police said.
"Her sister said the victim was suffering from stress and depression," Mr Preecha said.
According to reports, the woman took off her shoes before jumping into the middle of a pond said to be up to 3m deep.
Staff tried to use long sticks to stop the crocodiles from attacking her, according to the Bangkok Post. The victim's relatives filed a missing persons report with police on Friday, but they were reportedly told to wait until 24 hours had passed.
...more at link
http://www.telegraph.co.uk/news/worldne ... e-pit.html