Confederate flag supporters flock to the 'Florida Southern Pride Ride' in Ocala

NEW YORK DAILY NEWS
BY Tobias Salinger | July 13, 2015, 6:04 AM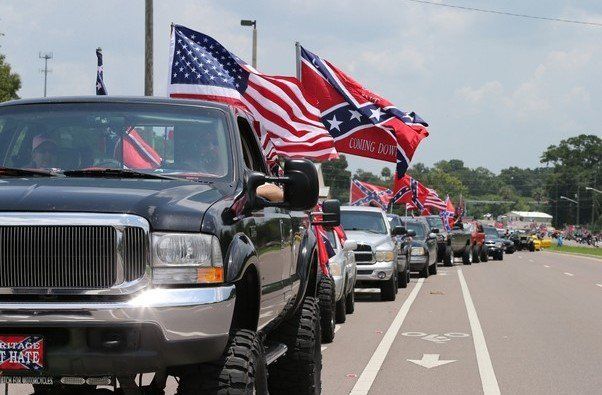 Thousands of Confederate flag supporters rallied in central Florida on Sunday afternoon.
The blue-and-red-clad drivers of some 2,000 trucks, motorcycles and other vehicles flocked to the town of Ocala for a 17-mile parade in support of county officials' decision to return the stars and bars to a site outside a Marion County government complex, The Ocala Star-Banner reported.
Someone reportedly fired at least six gunshots in the direction of the so-called "Florida Southern Pride Ride," but no one was injured, according to WFTV. Police tweaked the parade route after receiving word of threats against the demonstrators in one of the town's neighborhoods, the Star-Banner reported.
Attendees were wearing t-shirts with slogans like "Heritage not hate" as they defended the rebel symbol.
"This is my flag," Bryan Williams told WFTV. "It just means this is the South flag. Nothing against anybody. That's just what I was raised under. I carry it with me all the time."
A General Lee reproduction car modeled on the one from "The Dukes of Hazzard" led the ride, and most of the demonstrators were white, according to the local paper.
...more at link
http://www.nydailynews.com/news/national/confederate-flag-supporters-flock-central-florida-rally-article-1.2290300