Woman wakes in hospital with lopsided breasts
14:30 AEST Fri Sep 28 2012
Emily O'Keefe, ninemsn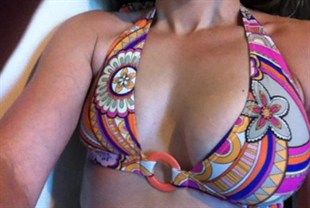 An online campaign has been set up to help a Melbourne mother-of-six raise funds to have corrective surgery after complications from implants left her with lopsided breasts.
Susan Hofferts, 34, was stunned to wake up in Dandenong Hospital earlier this month with one A-cup and one DD-cup sized breast.
Ms Hofferts's ordeal began after she returned to Australia from Thailand, having borrowed $10,000 to undergo breast surgery there in August.
The operation went without a hitch but back in Melbourne Ms Hofferts noticed swelling under one of her breasts.
"My doctor had a look at my breast and confirmed that I had a haematoma, a common complication, and would need to get the breast drained," Mrs Hofferts told ninemsn.
Blood tests showed her breast was not infected, she said.
Mrs Hofferts was referred to the plastic surgery department at Dandenong Hospital and admitted that day.
To Mrs Hoffert's surprise surgeons chose to remove one of her implants during the operation to drain the breast.
"I woke up after a few hours and one of my breasts was gone. I was in shock," Mrs Hofferts said.
......more at link
http://news.ninemsn.com.au/national/854 ... ed-breasts