'Female Viagra' is approved in the US: Drug dubbed the 'pink pill' boosts women's libido - but carries side-effects including fatigue and fainting
DailyMail.com
By Madlen Davies
August 19, 2015, 10:45AM
Addyi, known generically as flibanserin, has been approved by the Food and Drug Administration, the panel that approves drugs in the US

Dubbed the 'pink pill', it changes women's brain chemistry to boost libido
Critics warn side-effects include fatigue, low blood pressure and fainting
Pharmaceutical company has indicated it may try to bring Addyi to Europe
Women could soon be prescribed 'female Viagra' to boost their sexual desire, after the drug was approved in the US.
The drug, called Addyi and dubbed 'the pink pill', changes a woman's brain chemistry in order to boost libido.
It will be prescribed to women who report a low sex drive and say this has caused them emotional distress.
The daily pill has been given the green light by the Food and Drug Administration (FDA), the panel which approves drugs in the US, and will soon be prescribed by certified doctors throughout the country.
The move is a milestone long sought by the pharmaceutical industry, which has been eager to replicate the blockbuster success of impotence drugs for men.
Manufactured by Sprout Pharmaceuticals, the company has indicated that after Addyi is rolled out in America, it could turn its attention to Europe, including the UK.
However before the drug can be sold in Britain it will have to be licensed by the European Medicines Agency.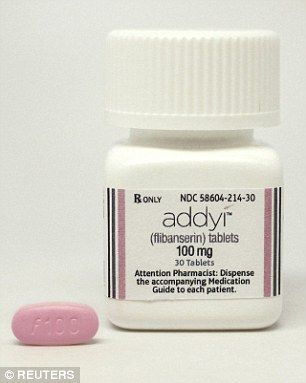 [...]
Women with insurance can expect to pay between $30 (£19.13) and $75 (£47.82) per month for Addyi, depending on the terms of their coverage.
The FDA specifically approved the drug for premenopausal women with hypoactive sexual desire disorder, described as a lack of sexual appetite that causes emotional distress.
Surveys estimate that eight to 14 percent of women ages 20 to 49 have the condition, or about 5.5 to 8.6million U.S. women.
More at link: http://www.dailymail.co.uk/health/article-3203220/Female-Viagra-approved-Drug-dubbed-pink-pill-boosts-women-s-libido-carries-effects-including-fatigue-fainting.html