How David Bowie influenced my life and work by Ricky Gervais
By Ricky Gervais.
This article was first published in November 2010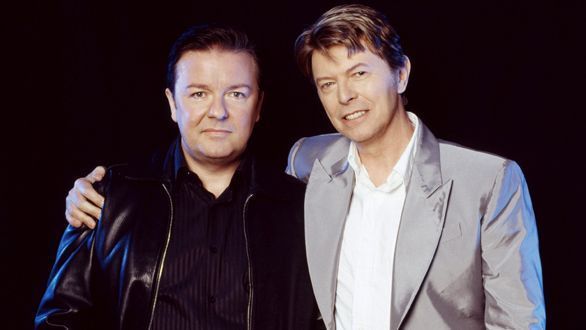 I was born in the Sixties in Battle Hospital, Reading. I grew up in a working-class council estate and went to the local comprehensive. I was a skinny kid, with long hair, fangs and preferred art to football. I had no role model I could identify with. And then I discovered David Bowie. I wore him like a badge of honour. As it turned out, I'd backed the most important creative force in British rock since Lennon and McCartney.
So I learned to play guitar, discovered I could sing, dyed my hair, wore stupid clothes, joined a band, got a record deal, released a couple of singles, got dropped from the record company, dyed my hair, wore more stupid clothes, didn't get a record deal, gave up, got a job in an office, got fat, wore comfortable clothes, got a sensible hair cut, managed a band that reminded me of David Bowie, went to work for a radio station, met Steve Merchant, wrote a sitcom about the office I used to work in, became friends with David Bowie, wrote a song with him, acted opposite him, did interviews with him, performed on stage with him, got thinner, wrote this article about him. So a lot changed since I first discovered David Bowie but two things remained unaltered. 1) He has been my favourite artist for 35 years and I still wear that badge. And 2) My teeth. He got his fixed. What a sell-out.
[.....]
A few years later I emailed David on his 57th birthday. It read: "57???? Isn't it about time you got a proper job? Ricky Gervais, 42, Comedian." He replied: "I have a proper job. David Bowie, 57, Rock God."
I'd say that's pretty on the money.
...more at link
http://www.shortlist.com/entertainment/ ... uffer54f1a
David Bowie - "Fatso" [taken from Extras)

(AUDIO)