Howard ground search called off as escaped prisoner eludes authorities for second day


By Colin Campbell | The Baltimore Sun | April 29, 2017, 6:15PM ET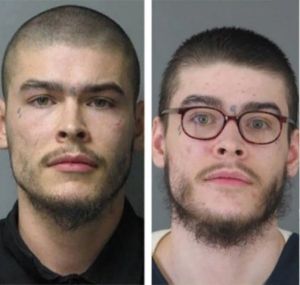 A maximum-security inmate who escaped from a Jessup mental hospital parking lot eluded police for a second day Saturday, alarming nearby residents and business owners, and prompting questions about how he was able to break free and remain on the run.
The prisoner, David M. Watson II, 28, freed himself from handcuffs and a waist chain and escaped about 9:40 a.m. Friday from the custody of two Wicomico County Detention Center guards in the parking lot of the Clifton T. Perkins Hospital Center near Dorsey Run Road and Patuxent Range Road in Jessup.
Watson, convicted in Delaware of attempted murder after shooting into a police officer's home in 2012, is serving a 106-year sentence.
Howard County police suspended their ground search near the hospital Saturday afternoon, "after exhausting all search efforts in the immediate area" with officers, K-9 units and helicopters with heat-seeking technology, officials said.
[...]
As he was being removed from a transport van, he knocked a guard to the ground and ran into the woods, officials said. His restraints included leg irons, handcuffs, a waist chain and a device called a black box, which makes it more difficult for an inmate to tamper with handcuffs. The handcuffs and chain were found near the van, along with two articles of clothing.
Video footage shows that correctional officers followed proper procedures in putting Watson in restraints before he left the Wicomico jail, according to George Kaloroumakis, that county's corrections director.
More at link:
http://www.baltimoresun.com/news/bs-md- ... story.html