Now HE'S in chains: Cleveland 'kidnapper' Ariel Castro appears in court for first time accused of abducting three women and raping and binding them 'in a self-serving and gratifying way'
Ariel Castro pleaded not guilty to four counts of kidnapping and three counts of rape

Bail was set at $2million for each charge

Stared at the floor throughout hearing

Prosecutor said he made premeditated decision to abduct the girls

Brothers appear on unrelated charges

Police say there is no evidence they were connected to the crimes
By Rachel Quigley and Paul Thompson
PUBLISHED: 12:45 GMT, 9 May 2013 | UPDATED: 16:51 GMT, 9 May 2013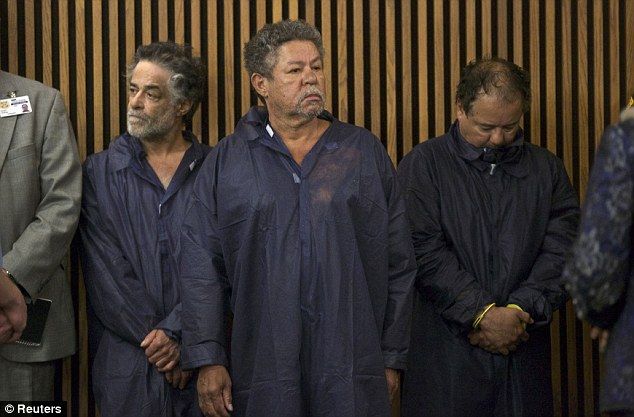 Cleveland kidnap suspect Ariel Castro hung his head in shame as he made his first court appearance on kidnap and rape charges.
The 52-year-old stared at the floor throughout the short hearing at Cleveland Municipal court.
Castro, who was charged with four counts of kidnap and three of rape, didn't once glance up to face the packed courtroom from the moment he entered.
Flanked by five guards and wearing a blue prison jump suit, he shuffled into the courtroom alongside his brothers Pedro and Onil.
Castro, who is alleged to have kept Michelle Knight, Amanda Berry and Gina DeJesus captive for over a decade, refused to look up at judge Lauren Moore and face the bank of TV cameras inside courtroom three.
He did not speak or acknowledge the judge when she set bond at $8 million.
Prosecutor Brian Murphy told the court he had kidnapped three women for his 'self gratifying and self serving ways'.
He told the court Castro had made a 'premeditated decision to snatch three young ladies off the street for his self gratifying and self serving ways'.
He said their ordeal lasted for over a decade during which time they were beaten and sexually assaulted by Castro and never allowed to leave the residence where he held them captive.
'Inexplicably as they disappeared they reappeared this week,' Murphy told the hearing.
'Today the situation has turned, your honor. Mr Castro stands before you a captive, in captivity, a prisoner, and the women are free.
'Free to resume their lives with the promise that justice will be served to to protect the victims and the community he manipulated and deceived.'
Castro, a former school bus driver, showed no reaction during the prosecutor's statement, staring intently at the floor.
His public defender Kathleen DeMentz leaned towards him and spoke briefly.
Murphy asked the judge to set bond at $5 million and asked that he have no contact with any of the women involved in the case.
Judge Moore set bond at $2 million on each of the charges.
Two guards stood by Castro as he was led out of the small courtroom to the sound of multiple photographer's cameras motor drives whirring.
....more at link
http://www.dailymail.co.uk/news/article ... -them.html