Gentz to appear in court today as Bob Bashara continues fight for new trial


By Nima Shaffe | WXYZ.com | April 21, 2016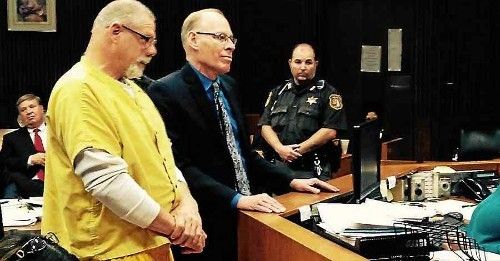 Joe Gentz with attorney, John Holler, in front of Judge Vonda Evans at Robert Bashara's
continuing new-trial hearing. (MACOMB DAILY PHOTO BY JAMESON COOK)
Convicted murderer Bob Bashara is expected to be back in court today.
His appearance is part of his motion for a new trial.
Despite his presence, the spotlight will really be on handyman Joe Gentz today when the hearing begins.
During the hearing, Gentz is supposed to decide before the court whether he'll change his testimony to match a recently filed affidavit claiming he acted alone in the 2012 murder of Jane Bashara.
Up until now, Gentz claimed Jane's husband bob forced him to do it. He said he had killed Jane because he was threatened by and paid by Bob.
Then in the affidavit, he changed his story, saying police coerced him into framing Bashara.
On Tuesday, Judge Vonda Evans heard an emergency motion that was filed in the case.
This morning it's not clear if that will have any impact on the hearing that continues today.
If Gentz decides to change his testimony, he could face first degree murder and life in prison rather than the 28 years he's doing now.
Source & news clip:
http://www.wxyz.com/news/gentz-to-appea ... -new-trial