Lindy Chamberlain-Creighton 'delighted' saga is over after coroner's ruling that a dingo killed Azaria
AAP, staff reporter
From: Herald Sun
June 12, 2012 5:29PM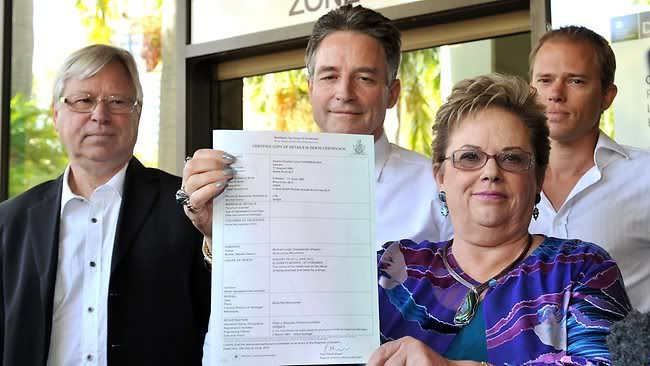 UPDATE:
LINDY Chamberlain-Creighton and her former husband, Michael, have given emotional statements following a coroner's ruling that a dingo killed their daughter, Azaria, in 1980.
Northern Territory Coroner Elizabeth Morris told a packed courtroom in Darwin that a dingo or dingoes were to blame for the August 17 attack at Uluru which originally saw Ms Chamberlain-Creighton jailed for murder and Mr Chamberlain given a suspended sentence for being an accessory after the fact.
Both were later exonerated after a royal commission in 1987.
The finding means Ms Chamberlain-Creighton, as she is known after remarrying, and Mr Chamberlain have finally won recognition that a dingo killed their nine-week-old daughter.
The inquest was the fourth into the death of Azaria.
The decision will mean that Azaria's death certificate will be immediately changed from "unknown".
Ms Chamberlain-Creighton said outside court that she was "relieved and delighted" that the saga had ended.
....more at link
http://www.heraldsun.com.au/news/true-c ... 6391525114