Planned Parenthood gunman reveals whether he has regrets


CBS News/AP | January 14, 2016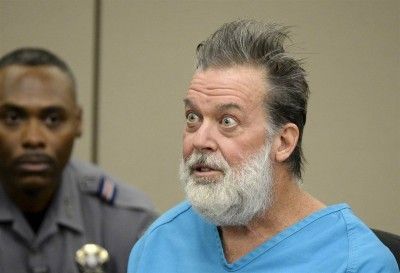 DENVER -- A man who acknowledged killing three people at a Colorado Planned Parenthood clinic told CBS Denver the shooting was spur-of-the-moment and he targeted the reproductive health organization because it's "murdering little babies."
In a phone call from jail, Robert Lewis Dear told the station Wednesday that he didn't plan the Nov. 27 shooting that also left nine people injured.
Dear said he believes FBI agents were following him that morning, and they tipped off employees that he was headed to the clinic.
"When I busted in that door on the side, all the people were gone," he said. "So they had been tipped off by the FBI or somebody. All the employees, everybody had gotten out the back."
[...]
Dear said he expected to die that day but gave up instead. He told CBS Denver he flipped a credit card to decide whether he should.
Dear's attorney, Daniel King, raised doubts about Dear's mental health after his repeated outbursts during court appearances.
Dear told the station, "I am sane, I am coherent, I have a college degree." He said he will refuse to cooperate with his court-appointed examiners.
"If I am coherent and sane why would I want to open Pandora's box and start answering all their questions so they can twist it around and say he's not?" Dear said.
"Well I'm just an honest man and I believe I'm guilty, so I am just going to plead guilty," he said.
More at link:
http://www.cbsnews.com/news/planned-parenthood-gunman-robert-dear-attack-was-on-spur-of-moment/