Scrubland search in hunt for Madeleine McCann

Detectives may use excavators, dogs and ground-penetrating radar in area about 2km from where child went missing

Brendan de Beer in Praia da Luz and Ben Quinn
The Guardian, Monday 2 June 2014 20.51 BST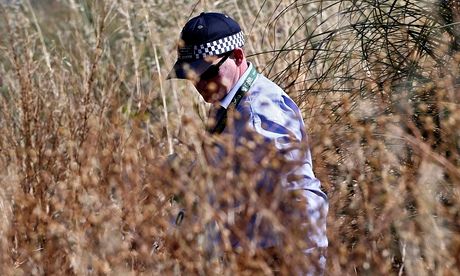 Police investigating the disappearance of Madeleine McCann have begun searching a piece of land roughly the size of three football pitches near the Portuguese resort where she vanished seven years ago.
Investigators erected tents and put down numbered markers yesterday on scrubland near the resort of Praia da Luz after an area located about 2km from the apartment where the child went missing was cordoned off by local police in the early hours. Nine vehicles, including two large vans, congregated on a hilltop in the secured area, with officers surveying the area with binoculars.
A search started at 11 am, while 15 officers from the Metropolitan police left the site about three hours later. At one point, three tents had been erected.
British officers at the site included detective chief inspector Andy Redwood, the senior British officer investigating Madeleine's disappearance.
Officials have said detectives may use excavators, dogs and ground-penetrating radar in the search.
Scotland Yard refused to comment on reports that British officers were at the scene and said the force was "not prepared to give a running commentary" about the case. A local resident, who had joined a handful of residents on the fringe of the scrubland, was sceptical as to what police would achieve in their search.
"This is very rugged terrain and it hasn't rained for several days, so any digging will be a thankless task," one said.
Praia da Luz mayor Victor Mata said the people of Luz had always supported the hunt for Madeleine, but questioned the timing of the new search.
...more at link
http://www.theguardian.com/uk-news/2014 ... ine-mccann