Big cat has Detroit neighborhood on edge
Niraj Warikoo, Detroit Free Press 6:30 p.m. EDT August 24, 2013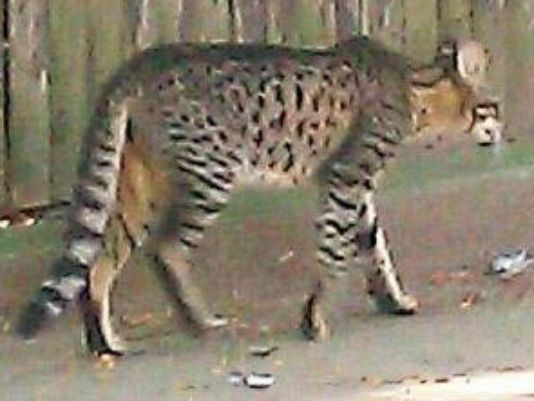 A Humane Society officials said it's unclear whether the cat is feral or domesticated and what breed it is.

DETROIT --
Ambling down the block a couple of weeks ago with his 1-year-old daughter perched on his shoulders, Antwaun Asberry sensed something was behind him.
He turned around and spotted a tall creature that appeared to be a cat, only a lot bigger.
"His tail is longer than my arm," Asberry, a 6-foot-5 Detroiter with a lanky build, said of the cat. "I was like, what the (expletive) ... I don't know what it is. I just want it gone."
So do other residents in the northeast Detroit neighborhood, who said they're unnerved by this supersize cat roaming the streets in recent weeks. They've tried calling Detroit police and Animal Control, but have gotten no response. On Friday, the Michigan Humane Society said it will investigate the case and try to find the cat.
"We're going to put some effort into this," said Nancy Gunnigle, a director with the Humane Society. Cats this size, she said, are "not easy to catch."
.... more at link
http://www.usatoday.com/story/news/nati ... e/2694721/