Purr-fect stowaway: Bob-bob arrives at Disney after 10 hours in suitcase
By Desiree Stennett, Orlando Sentinel
6:28 p.m. EST, September 12, 2012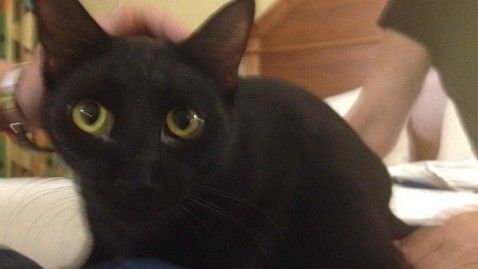 Bob-bob the cat
wasn't about to let his owner go to the Happiest Place on Earth without him. So he came along — in her suitcase.
Days before her annual Disney trip, Ethel Maze of Circleville, Ohio, went through the familiar steps of confirming flight and hotel reservations for her group of 18 disabled veterans and volunteers and calling in help to care for her six pets.
Bob-bob had no intention of staying behind.
Early Monday, as Maze — who runs the Maze Residential Care Home for disabled veterans — did some last-minute packing, the 14-month-old kitty sneaked into her bag.
Mike Groleau, the group's designated "baggage handler," said he thought he saw the bag move — but after a long night of packing, he slapped some tags on the front and back of the green suitcase and loaded it with the rest.
"This was the last bag I grabbed," Groleau said. "... somehow it got zipped up."
Ten hours later, as the group settled into its Disney-area hotel, Maze unzipped the bag, and there was Bob-bob, a little shaken but still purring.
http://articles.orlandosentinel.com/201 ... terans-bob