At Cat Video Film Festival, Stars Purr for Close-Ups
By MELENA RYZIK
Published: August 31, 2012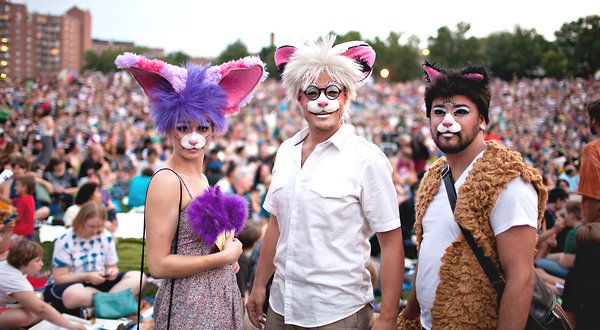 From left, Hilary Hubanks, Joseph E. McGreevy, and Jerry Woulf.

MINNEAPOLIS —
You could hear the meows nearly a block away, and also the "awwws." The laughter too.
On Thursday evening the Walker Art Center, one of the nation's most prominent institutions of contemporary art, hosted the inaugural Internet Cat Video Film Festival here. An estimated 10,000 people turned out for an event that was, from its inception to its closing credits, an online meme made flesh (and fur).
The crowd — easily double what organizers expected — packed the lawn outside the museum, spilling onto the sidewalks across the street. There were local cat lovers and out-of-state fans of Fluffy; many wore kitty-theme T-shirts or simply ears and whiskers. Some took real cats on leashes. A few dogs came, for irony.
....more at link
http://www.nytimes.com/2012/09/01/movie ... e-ups.html