IDK ... I would love a pink one, but can only think about how little ones love playing with cellphones.

The double barrelled pistol designed to look like a smartphone: Firm boasts weapon can 'hide in plain sight' as anti-gun campaigners brand it irresponsible


By Stacy Liberatore | Daily Mail | March 24, 2016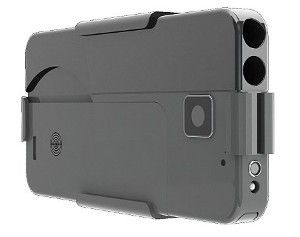 A firm has designed a weapon that when in its locked position will be virtually undetectable because it 'hides in plain sight'.
Ideal Conceal is awaiting patent approval for a double barreled, .380 caliber pistol that folds down to mimic a smartphone - complete with mock camera lens and headphone jack.
This design has caught the attention of many gun enthusiasts who anticipate its release, but anti-gun organizations and law enforcement worry about how it will contribute to future gun violence.
'What's disturbing is that this looks like a real smartphone,' Andrew Patrick, Deputy Communications Director at Coalition to Stop Gun Violence, told DailyMail.
'There are countless stories of children playing with toy guns who were shot, because it was mistaken for the real thing.'
'This gun is not only dangerous, but it is also irresponsible.'
[...]
Ideal Concept has responded to the idea of this weapon being a ruse for law enforcement by stating they support 'law enforcement 100%' and their new design is geared towards those with a CCW 'and wants something he can conceal from the view of an attacker for self-defense'.
Read more:
http://www.dailymail.co.uk/sciencetech/ ... sible.html