After it is dismantled, I hope they send it to Texas. We could turn it the other way and make use of it.

Catapult System Used to Launch Drugs Over US-Mexico Border Fence in Arizona: U.S. Border Patrol


By Monica Garske | NBC San Diego | February 15, 2017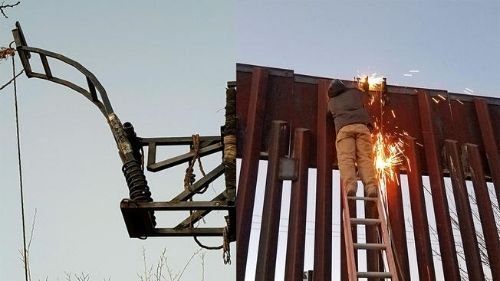 Drug smuggling attempts by car across the U.S.-Mexico border are a frequent occurrence but, in Arizona, smugglers got extra creative, using a catapult system to launch bundles of drugs across a fence.
According to U.S. Customs and Border Protection (CBP) officials, on Feb. 10 Border Patrol agents in Douglas, Arizona, were patrolling an area east of the Douglas Port of Entry when they noticed some suspicious activity near a fence that separates Mexico from the U.S.
As agents approached the area, several people scurried off. Upon looking more closely at the fence, agents discovered a catapult system rigged onto the south side of the border fence.
A search of the area unveiled that two bundles of marijuana, weighing a combined 47 pounds, had been launched from the catapult from Mexico into the U.S.
More at link:
http://www.nbcsandiego.com/news/local/D ... 41333.html