From the CTH...
Review of Jack Cashills book.......
"If I Had A Son – Race, Guns and the Railroading of George Zimmerman"

Jack Cashill's "If I Had A Son" The Comprehensive Book About The George Zimmerman Case – Available Beginning Today
Posted on October 29, 2013 by sundance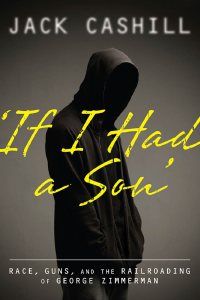 In March of 2012 no-one could have predicted that a rag tag bunch of misfits spread around the globe would ultimately identify the beginning of the largest full scale media fraud in our lifetime. And certainly no-one would have predicted that most would end up here sharing their discoveries and identifying the Truth behind the headlines.
What we identified as the *real story* around the Trayvon Martin shooting was little, if anything, to do with the actual George Zimmerman and Trayvon Martin encounter. The real story was how this one self-defense shooting was used by an assembly of disparate interests, and then manipulated in the extreme by a monolithic over powering media machine.
It was, and still remains, arguably one of the most, if not *the most*, astounding examples of modern, full-scale media manipulation ever witnessed.
Social media, mainstream media and various professional grievance artists, all participated in one of the most bizarre examples of modern sociology run to the ideological, and political, extremes.
Such is the complex outline behind the Jack Cashill book "If I Had A Son – Race, Guns and the Railroading of George Zimmerman" – which is available today, released in hardback.
Initially, when Jack Cashill first requested review of our research, and later, when he asked if we would assist his efforts with use of our content - we were reluctant.
We were not reluctant because the story was not important or valuable, but rather because the sheer size and scope of the story seemed almost impossible to present into one accurate, and yet digestible, format.
However, Jack Cashill has done the impossible.
...more at link
http://theconservativetreehouse.com/201 ... ing-today/