New mom, dad of 8 identified as police officers killed on domestic disturbance call


By Crystal Bonvillian | WHIO | Monday, October 10, 2016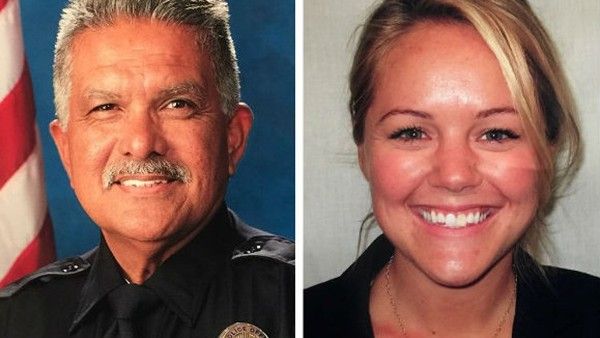 Palm Springs police Officers Jose Gilbert "Gil" Vega, left, and Lesley Zerebny were shot and killed Saturday,
Oct. 8, 2016, while responding to a call of a domestic disturbance. (Palm Springs Police Department)
A total of nine children, including a 4-month-old girl, lost a parent Saturday when two California police officers were gunned down while responding to a call about a domestic disturbance.
Rookie Palm Springs police Officer Lesley Zerebny had come back early from maternity leave "to help out," Palm Springs police Chief Bryan Reyes told the Desert Sun. Zerebny, 27, and her 63-year-old colleague, Officer Jose Gilbert "Gil" Vega, were shot and killed as they approached the door of the home they were called to. A third officer was injured, but survived.
The officers were all shot through the door of the home, the newspaper reported.
Zerebny had been with the department for 18 months. Vega, a father of eight, was slated to retire in December after 35 years with the agency. He was working Saturday after volunteering for overtime, Reyes said.
[...]
Vega's brother spoke of the longtime officer's dedication Sunday at a candlelight vigil outside the Palm Springs Police Department.
"He was a really dedicated police officer," the brother, also named Jose Vega, said. "He loved his job, he loved his fellow officers."
Reyes choked back tears as he talked about watching Zerebny's husband say goodbye to his wife.
"To see her laying down with her eyes open and to witness her husband in full Riverside County sheriff's uniform, because he's a deputy sheriff, kiss her on the forehead for the last time -- it's tough. We're going to rely on all of you to help us through this," the police chief said.
More at link:
http://www.whio.com/news/crime--law/new ... 1x65hksVK/