The GREAT news is he is improving.

I put most of the detail here.
Warning
if you click the link, there is a video on the page showing, what he looks like now, without clicking on it.

Road to recovery: Baton Rouge Deputy Nick Tullier says 'hello'


By WGNO | June 5, 2017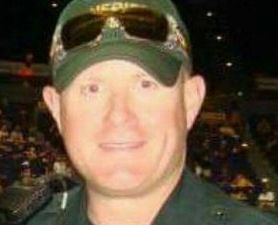 HOUSTON — It's been almost a year since East Baton Rouge Parish Sheriff's Deputy Nick Tullier was shot along with several other officers in an ambush in Baton Rouge, and this week, his family is celebrating a huge milestone in his long road to recovery.
Nick Tullier's fiancee, Danielle Mcnicoll, posted a video of Nick speaking the word "hello" from his rehabilitation center in Houston.
"Our miracle today!" Mcnicoll said about the video.
Nick Tullier has undergone countless surgeries and extensive rehabilitation since he was shot the morning of July 17.
Nick Tullier was shot three times – in the stomach, head and upper arm. Doctors told the family that Nick Tullier wasn't expected to live longer than a day.
Source:
http://wgno.com/2017/06/05/road-to-reco ... ays-hello/