Read an off-topic article today confirming the Sterling investigation is still on-going. No updates.
Baton Rouge officer sues Black Lives Matter activist DeRay Mckesson over 'inciting violence'


By Chris Sommerfeldt | New York Daily News | November 8, 2016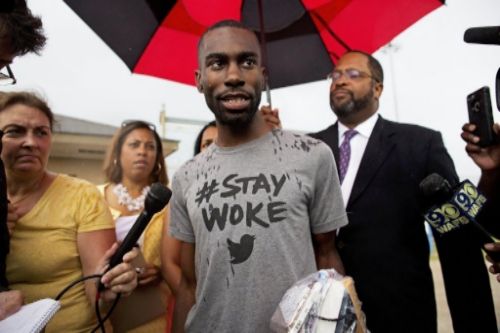 A Louisiana cop has filed a lawsuit blaming a prominent Black Lives Matter activist for getting struck in the face by a piece of concrete — even though the suit concedes the named activist didn't actually throw anything.
The unnamed officer filed the federal lawsuit Monday saying Baltimore native and Black Lives Matter organizer DeRay Mckesson "incited violence" during a protest in Baton Rouge on July 9. The tumultuous protest, which prompted hundreds of arrests, was organized in response to the death of Alton Sterling, a 37-year-old black man shot and killed by two white police officers there on July 5.
The officer says in the lawsuit he was struck by a "rock like substance" and, since Mckesson "was in charge," he is to blame.
"He was seen and heard giving orders throughout the day and night of the protests," the suit charges. "DeRay Mckesson was present during the protest and he did nothing to calm the crowd and, instead, he incited the violence on behalf of Black Lives Matter."
The Baton Rouge officer, who's only identified as "John Doe" in the suit, is seeking unspecified damages and claims he lost teeth and suffered injuries to his jaw and brain during the alleged rock throwing incident. The suit says Doe requested anonymity "for his protection."
Mckesson didn't immediately return requests for comment from the Daily News, but took to Twitter Monday evening. "I wish the Baton Rouge police would return my bookbag," he said, quickly prompting hundreds of retweets.
More at link:
http://www.nydailynews.com/news/nationa ... -1.2863430