'It's something that we're looking at very, very closely': FBI investigates San Bernardino gunman's mother to see if she knew their terror plans
Attorney General Loretta Lynch said on Sunday that the FBI is looking to San Bernardino gunman Syed Farook's mother, Rafia Farook

Rafia Farook lived with Syed Farook and his wife, Tashfeen Malik, in their Redlands, California, home where they built pipe bombs

The announcement came as Farook's father claimed his son supported ISIS and wanted the destruction of Israel

Law enforcement officials said Sunday they aren't sure it was specifically ISIS that played a significant role in the couple's radicalization
By Kelly Mclaughlin For Dailymail.com
Published: 01:44 GMT, 7 December 2015 | Updated: 05:02 GMT, 7 December 2015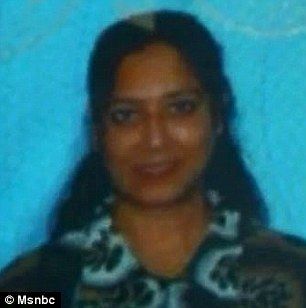 The FBI is now looking into whether or not the mother of one of the San Bernardino gunmen knew anything about the shooting ahead of the attack.
Attorney General Loretta Lynch said on Sunday that the FBI is looking to Rafia Farook, who lived in the same home in Redlands, California, where her son, Syed Farook and his wife, Tashfeen Malik, built pipe bombs and stored thousands of rounds of ammunition.
'Obviously it's something that we're looking at very, very closely,' Lynch told NBC's Meet the Press when asked if Rafia Farook may have known about the shooting.
Lynch's comments about the gunman's mother came on the same day his father, also named Syed Farook, 67, told the Italian newspaper La Stampa that his 28-year-old son was a 'momma's boy' who had become 'too shy, conservative and fixated against Israel'.
The older Farook at one time lived in Riverside, California with Rafia Farook, Tashfeen Malik, younger Farook and his siblings. The gunman's parents have since separated.
Speaking outside his Californian home, Mr Farook claimed that his son, who died along with his Pakistani-born wife Malik on Wednesday after killing 14 and injuring 21, rarely went to parties with her because he thought no other man should see her dancing.
....more at link
http://www.dailymail.co.uk/news/article ... vance.html