This is a long article a week old, the epitome of Ferguson problems. We all remember watching Heather streaming (this night) with her package of chalk. The photo obviously shows LaLa (the driver of the MikeBrownMobile) hitting her, knocking her out of her wheelchair. She was later filmed at the hospital with no injuries saying she really didn't know how she got on the ground. Now, she and five other unnamed "victims" are suing. Of course they are, this is Ferguson.
Ferguson drops charges against 6 activists moments before trial


By Stephen Deere, Jeremy Kohler | STLtoday.com | January 22, 2016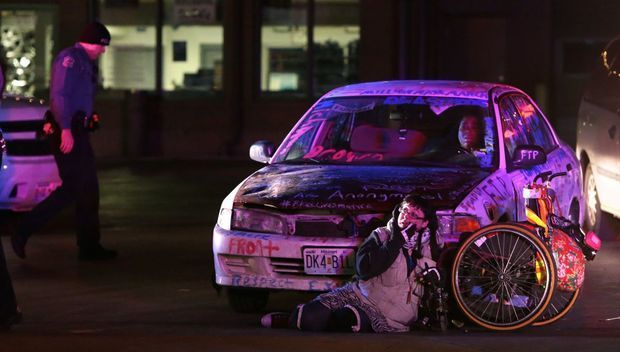 Protester Heather De Mian is arrested by Ferguson police, on Monday, Feb. 9, 2015.
Protesters earlier walked onto the police department grounds and some wrote on the walls of
the building and on the parking lot with chalk. Officers on the scene did not give a reason for
the arrests. (Photo by Robert Cohen)
FERGUSON - In a case that featured allegations of police brutality, claims of missing evidence and the pitfalls of body cameras, the stage was set for a trial.
A flat-screen TV was positioned next to the judge. Three defense attorneys convened at a table. Six activists, charged with various crimes, whispered among themselves.
But a key figure, pilloried because of a well-publicized federal report, was missing: Ferguson Prosecutor Stephanie Karr.
She eventually emerged from behind a wall, laid a slip of paper on the judge's bench and announced that the charges were being dismissed.
Karr declined to provide an explanation, providing yet another demonstration of the opaque — and arbitrary, some say -- nature of St. Louis County municipal justice, in the city that brought the entire system under scrutiny.
[...]
Late Thursday, the six defendants filed a lawsuit in federal court, alleging that Ferguson had destroyed evidence in their case and committed numerous constitutional violations. The suit claims that despite the criticism that the police department had "doubled down and is equally or more abusive, authoritarian and oppressive than it was prior to Brown's death."
[...]
The most serious of the allegations that brought defendants to court on Thursday was an assault charge against Heather De Mian.
Last year, she often moved through crowds of protesters in a motorized wheelchair, live streaming events on her cellphone held aloft by a flexible wand. In Ferguson's version of events, De Mian blinded an officer with a light on her phone and then struck him with it when he tried to push it away, cutting his left thumb.
Raw video: Officers arrest activist Heather De Mian
But De Mian, who was born with Ehlers-Danlos syndrome, a connective tissue disorder, said officers knocked her out of her chair without provocation. In one video, taken by activists, she is lying on the ground, shouting, "They hit me in the face and knocked my glasses off."
More at link in-depth:
http://www.stltoday.com/news/local/crim ... 04648.html